IMPORTANT
Action required: Apply the fix for SNS firewall disks.
Please follow the procedure described in the How to update my SSD Firmware - Stormshield Knowledge Base article (authentication required).
Connection Panel
The Connection Panel allows you to easily open and close the configured VPN connections: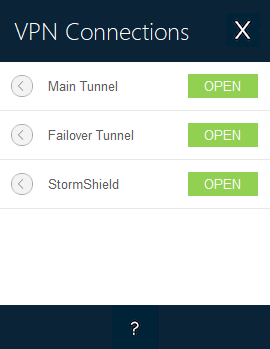 The Connection Panel can be customized. You can select the VPN connections to be shown. You can also rename or sort the VPN connections.
Refer to chapter Configuring the Connection Panel.
To open a VPN connection, simply click the relevant OPEN button.
The icon to the left of the connection name indicates the status of the connection:
Connection closed.

Click this icon to open the VPN configuration for this connection in the Configuration Panel.

Caution: access to the Configuration Panel may be restricted (see section Restricting access to the Configuration Panel)

Connection being opened or closed.

Connection open. When there is traffic on this connection, the color intensity of the disk at the center of the icon changes.

The connection experienced an incident while opening or closing. Clicking the warning icon will open a pop-up window giving detailed or additional information about the incident.
The buttons on the Connection Panel have the following function:
The following keyboard shortcuts are available for the Connection Panel:
| | |
| --- | --- |
| Esc (or Alt+F4) | Closes the Connection Panel. |
| Ctrl+Enter | Opens the Configuration Panel (if enabled). |
| Ctrl+O | Opens the selected VPN connection. |
| Ctrl+W | Closes the selected VPN connection. |
| Up/down arrows | Moves the cursor from one VPN connection to another. |