IMPORTANT
Action required: Apply the fix for SNS firewall disks.
Please follow the procedure described in the How to update my SSD Firmware - Stormshield Knowledge Base article (authentication required).
Configuring the Connection Panel
The SN VPN Client Exclusive Connection Panel can be fully customized.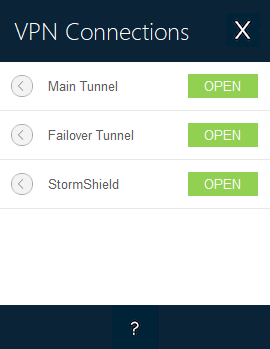 VPN connections can be VPN tunnels or Remote desktop connections, i.e. a VPN tunnel for which the Remote desktop function has been specified.
A window that can be accessed from the Tools > Connections Configuration menu allows you to manage VPN connections in the Connection Panel, i.e. creating, naming, and sorting them.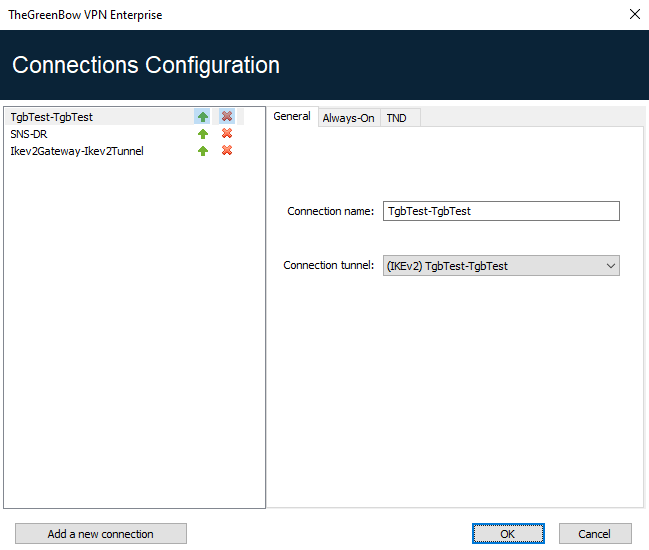 The configuration window in the Connection Panel is used for the following actions:
Choosing the VPN connections that are shown in the Connection Panel

Creating and sorting VPN connections

Renaming VPN connections

Configuring Always-On in the TrustedConnect Panel

Configuring TND (Trusted Network Detection) in the TrustedConnect Panel
The left side of the window shows the list of connections as they appear in the Connection Panel.
The right side contains the following three tabs:
The General tab shows the parameters of each connection: its name, the associated VPN tunnel and possibly the Remote Desktop Sharing (RDP) connection, if it has been configured.
To create a new VPN connection, click Add a new connection, choose a name and select the corresponding VPN tunnel. If a Remote Desktop Sharing connection is configured, an option used to select it automatically appears below the selected tunnel. Once they have been confirmed, changes made in the Connection Panel configuration window instantly appear in the Connection Panel.
The Always-On and TND tabs are described in chapter Configuring the Connection Panel below.
NOTE
The Connection Panel's configuration is stored in the VPN configuration file. Therefore, it can be exported into .tgb files, which are useful for deploying an identical Connection Panel across all workstations.