IMPORTANT
Action required: Apply the fix for SNS firewall disks.
Please follow the procedure described in the How to update my SSD Firmware - Stormshield Knowledge Base article (authentication required).
Updating the firmware
By updating your firewall to a more recent version, it will benefit from the latest features available and the latest functional patches and bug fixes.
Identifying the
SNS

version currently installed
Go to the firewall's administration interface at https://10.0.0.254/admin.
Locate the

SNS

version number in the upper banner.
Administration interface of an SNS firewall in version 4

Administration interface of an SNS firewall in version 3

Downloading the update file
Log in to your MyStormshield personal area.
Go to Downloads > Downloads.
Select Stormshield Network Security from the suggested categories, then Firmware. If necessary, select a version branch as well, such as 4.X, to narrow down the list.
Locate the version that you want to install on your firewall. To do so:

Refer to the version release notes to find out what the

SNS

versions contain.
Ensure that the new version is compatible with the model of your firewall. An intermediate version may be required in some cases.
If a version has several patch versions, always choose the most recent so that you benefit from the latest functional patches and bug fixes.
Use a version that has not already expired. For more information, go to Product > Product life cycle.

To choose the desired version, click on the name that matches your firewall model to download its update file. Accept the download of the .maj file.
You can check the integrity of binary files by using the command sha256sum <filename> in Linux or CertUtil -hashfile <filename> SHA256 in Windows. Next, compare the result with the hash indicated in MyStormshield, by clicking on Show in the SHA256 column of the .maj file in question.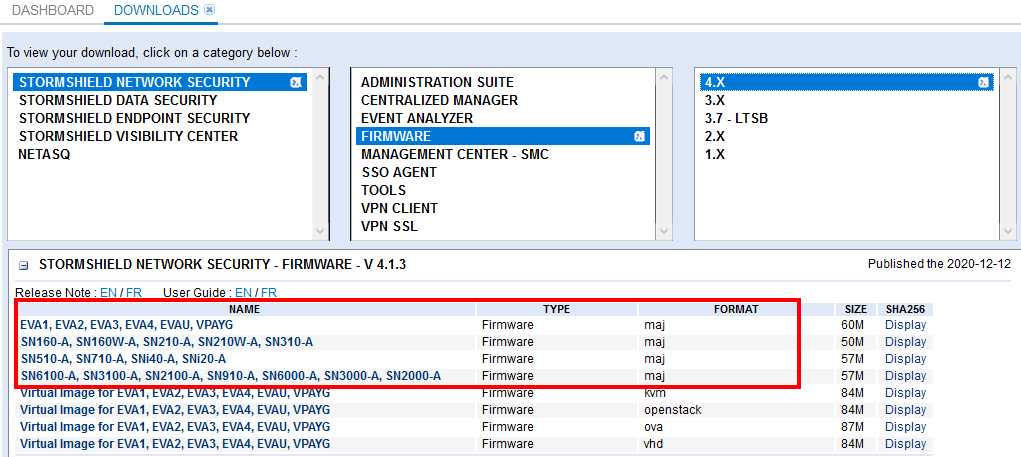 Installing the update
In the firewall administration interface, go to Configuration > System > Maintenance, System update tab.
Select the update file downloaded earlier.
Click on Update firmware, then wait while the update installs.
Administration interface of an SNS firewall in version 4

Administration interface of an SNS firewall in version 3