IMPORTANT
Action required: Apply the fix for SNS firewall disks.
Please follow the procedure described in the How to update my SSD Firmware - Stormshield Knowledge Base article (authentication required).
TOTP enrollment procedure
Once the TOTP solution is configured, users required to use TOTP authentication must follow the enrollment procedure below.
Open a recent web browser.

Go to the SNS firewall's captive portal at https://firewall_IP_address/auth.

Authenticate with your usual login credentials.

The TOTP enrollment page appears (pictured below). Its address should resemble https://firewall_IP_address/auth/totp_enroll.html.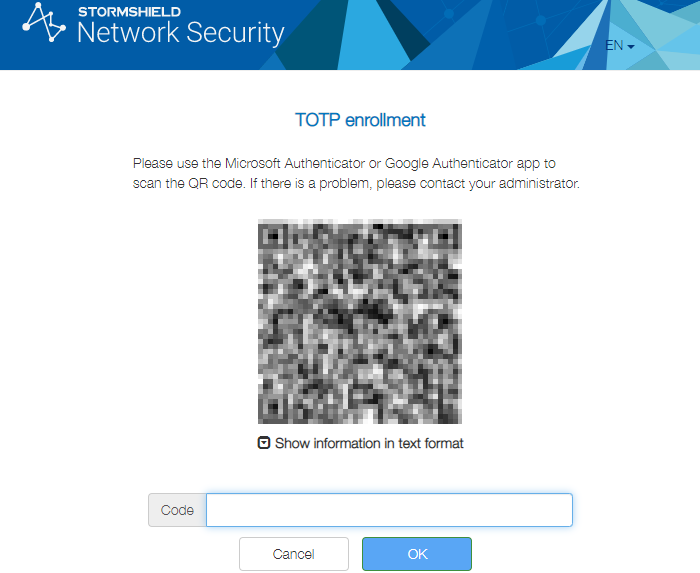 Open the Authenticator app installed on your work or mobile device.

To add an account to your Authenticator, click on the button allowing you to scan a QR code, then scan the code of the TOTP enrollment page. If your Authenticator does not allow you to scan QR codes and requests a key, click on Show information in text format on the TOTP enrollment page and retrieve the Secret key.

 

Once the account is added, a line will appear with the code and a countdown timer next to it. The amount of time shown represents the remaining time before the TOTP expires.

On the TOTP enrollment page, enter the code that appears in the Authenticator and click on OK. The code must still be valid the moment you click on OK.
The connection window to the captive portal will appear again, indicating that the enrollment was successful. For future authentications that require a TOTP, it must be obtained in the Authenticator.